Expert guidance.
Guaranteed results.
We'll start by asking you some questions about your fitness goals and history, and explain how the Caliber coaching program works along the way.
What is your primary fitness goal?
Build muscle
Get leaner
Gain strength
Other
What is your current weight?
Where will you primarily be working out?
At a gym
At home
Both at home and at a gym
What type of equipment do you have access to?
* If you don't have any equipment, that's OK. Caliber can create customized training programs based solely on body weight. Just select "None of the above".
Barbells
Dumbbells
Gym machines
Cable weights
Resistance bands
Kettlebells
TRX bands
No equipment
Other
Caliber coaching is the most efficient and effective way to improve your body composition.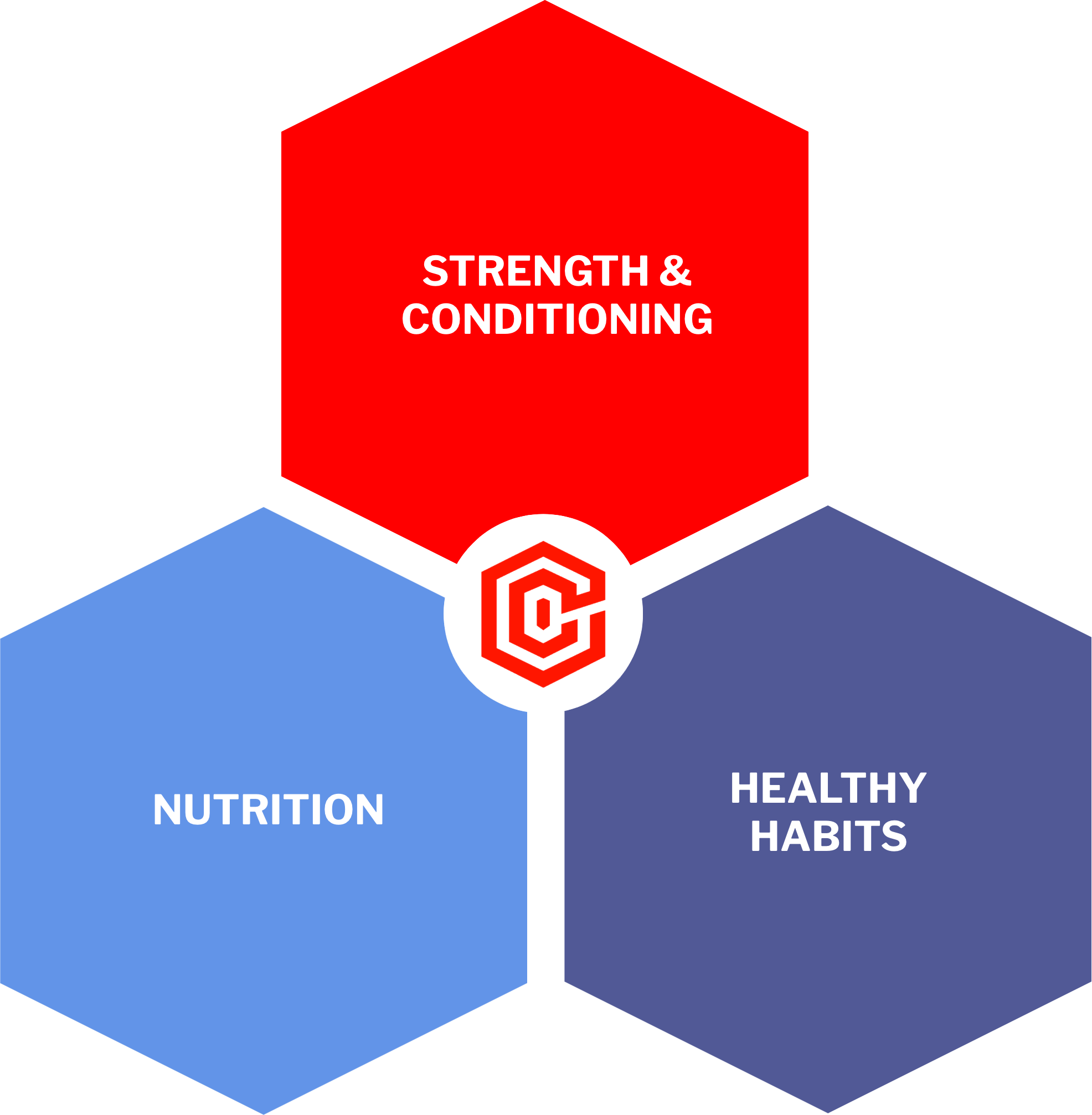 Caliber's proven science-based methodology incorporates strength & conditioning, nutrition, and habit coaching to make sure you have everything you need to successfully reach your goals.
Based on your responses, it seems like you could be a good fit for Caliber Pro!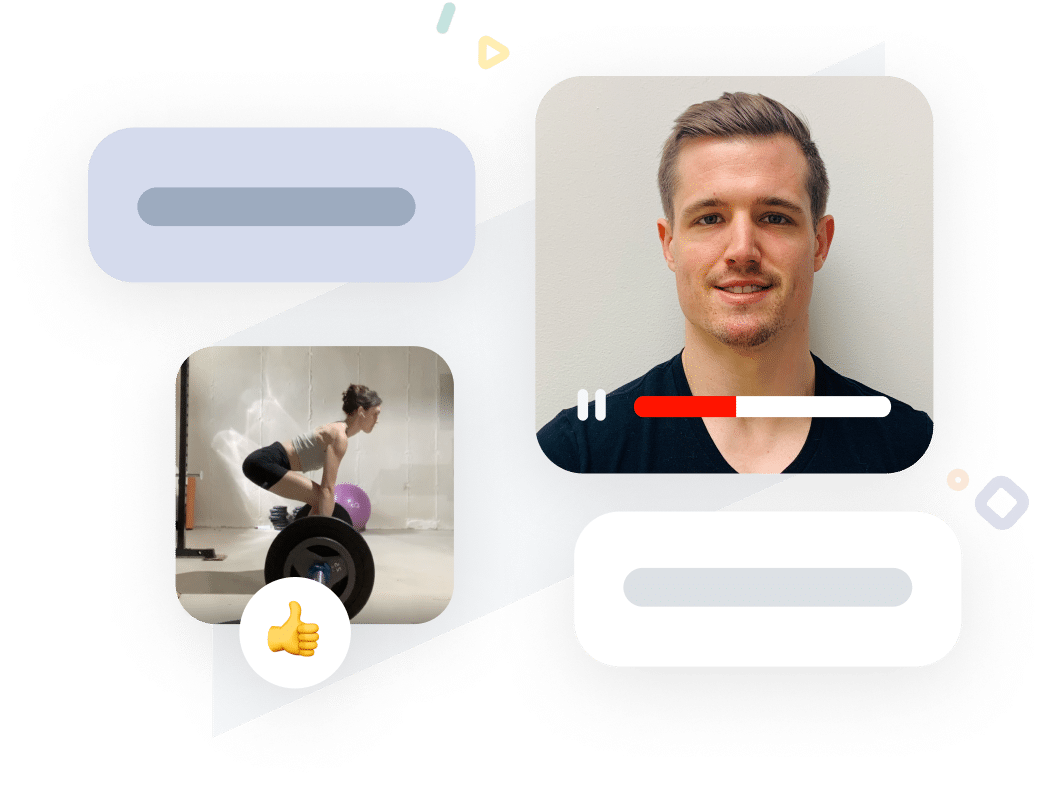 Caliber Pro gives you access to a team of coaches who will help you reach your specific goals, and includes regularly updated workouts, daily motivation, exercise form reviews, and much more.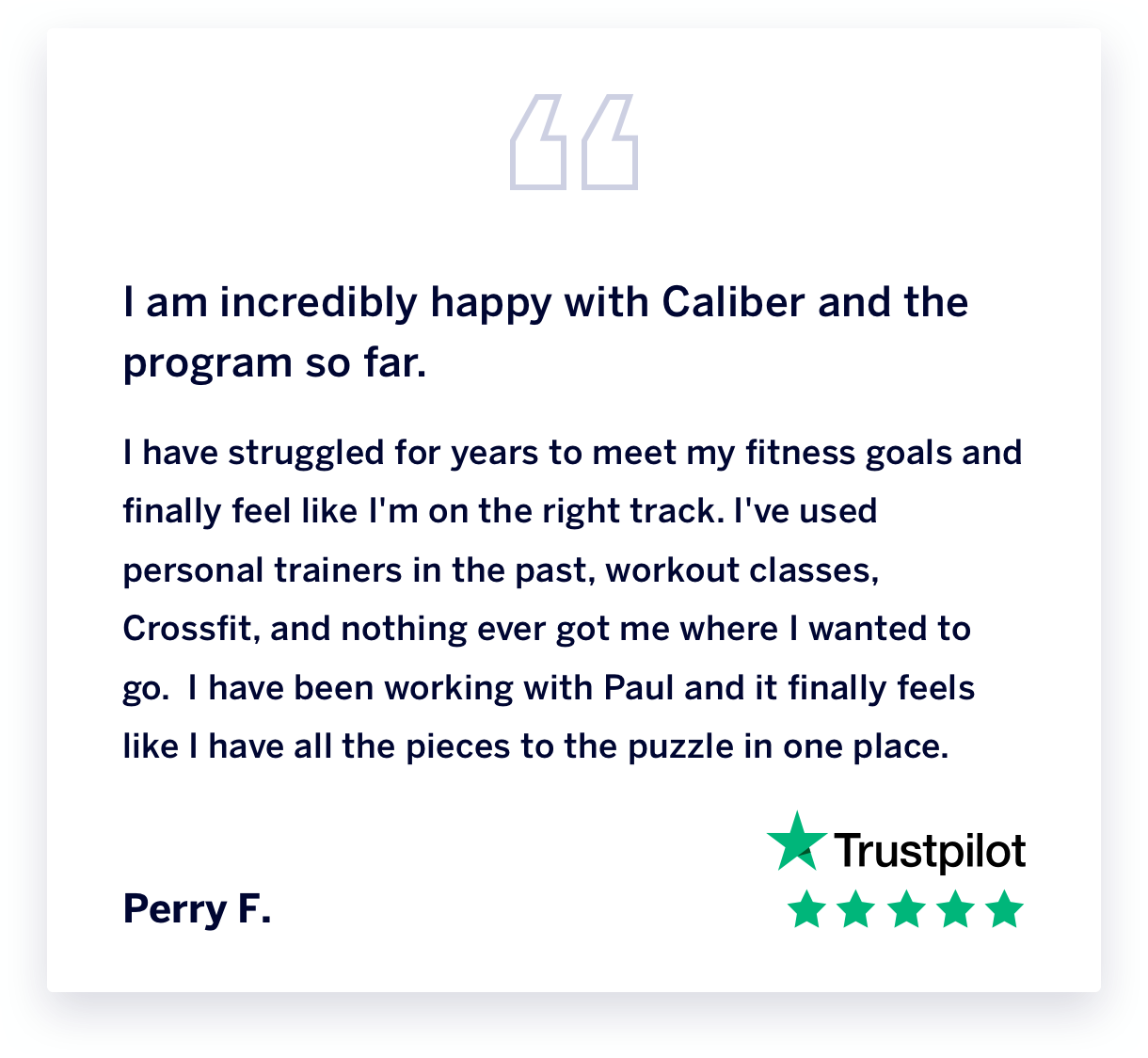 Do you currently do any type of strength training?
Do you currently do any of the following types of cardio?
Running
Walking
Elliptical
Cycling
Rowing
Swimming
Other
Do you have any significant injuries?
Are you at risk of any of the following?
Testosterone deficiency
Heart disease or stroke
High blood pressure
Diabetes
Osteoarthritis
Other
None
How would you classify yourself in terms of weight training experience?
Beginner - I've never lifted weights, or just recently started
Intermediate - I have some experience with common strength training exercises
Advanced - I've been training for years but want to take it to the next level
As a Caliber member, you'll be working with one of our world-class coaches to help you reach your specific goals.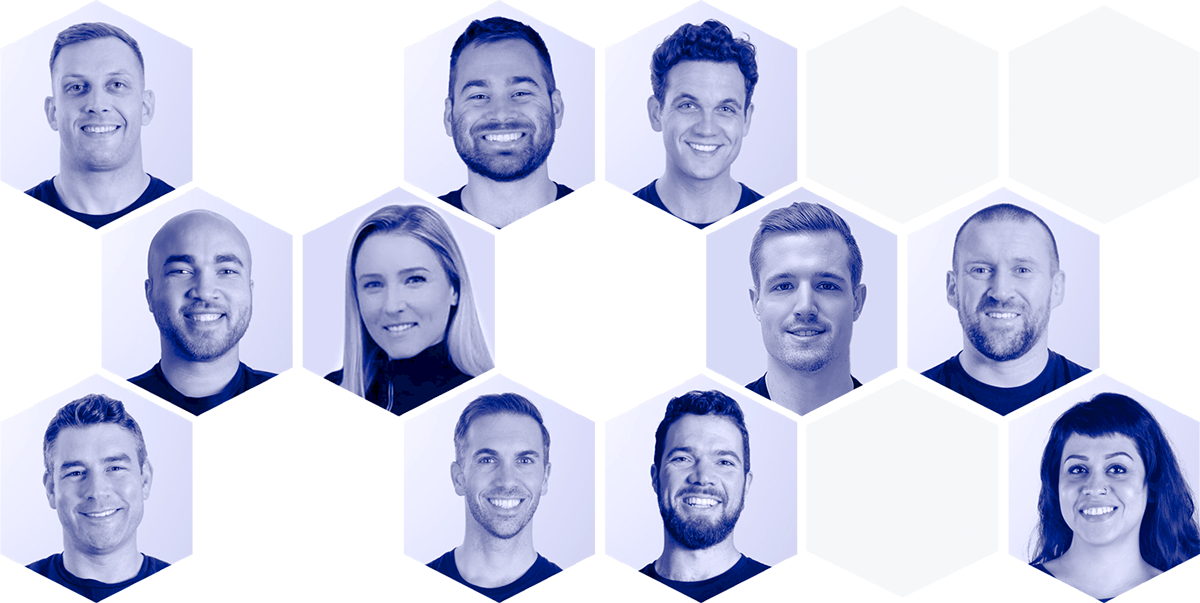 We'll match you up with the perfect coach for you, taking into account your goals, level of experience, personality, and any other specific considerations you may have.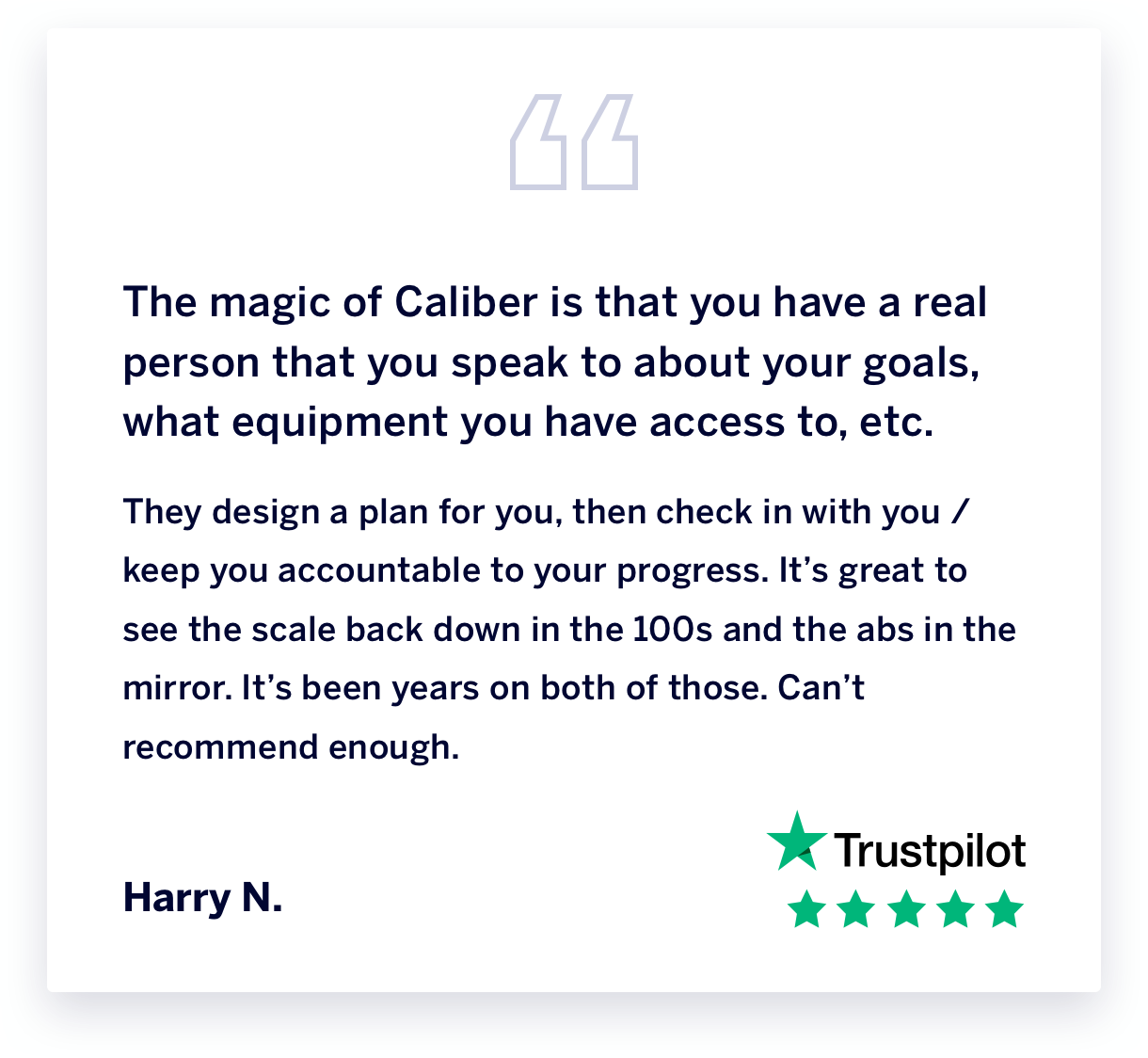 How long has it been since you were in great shape?
0 - 12 months
1 - 3 years
More than 3 years
I've never been in great shape
I'm in good shape now but want to improve
Have you tried any of the following to reach your fitness goals in the past?
Used a fitness app
Tried a workout plan I found online
Took a group fitness class
Hired a personal trainer
Used fitness supplements
Followed a special diet
Purchased a home fitness device
None of the above
Do you relate to the statement below?
"I'm not exactly sure how to structure my workouts to most effectively reach my goals."
What is the #1 single biggest obstacle holding you back right now from reaching your fitness goals?
This is the biggest thing we can help you with, so give as much detail as you can about what it is you feel is holding you back.
Your coach will design a fully customized workout plan for you based on Caliber's proven training methodology.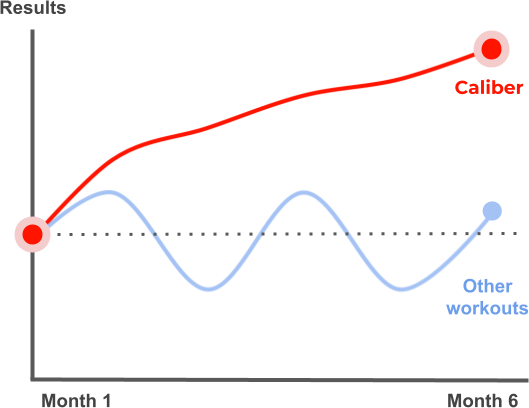 As you follow your plan, your coach will check in with you regularly to review your progress, keep you motivated, make adjustments to your plan, and help you stay on track to reach your goals.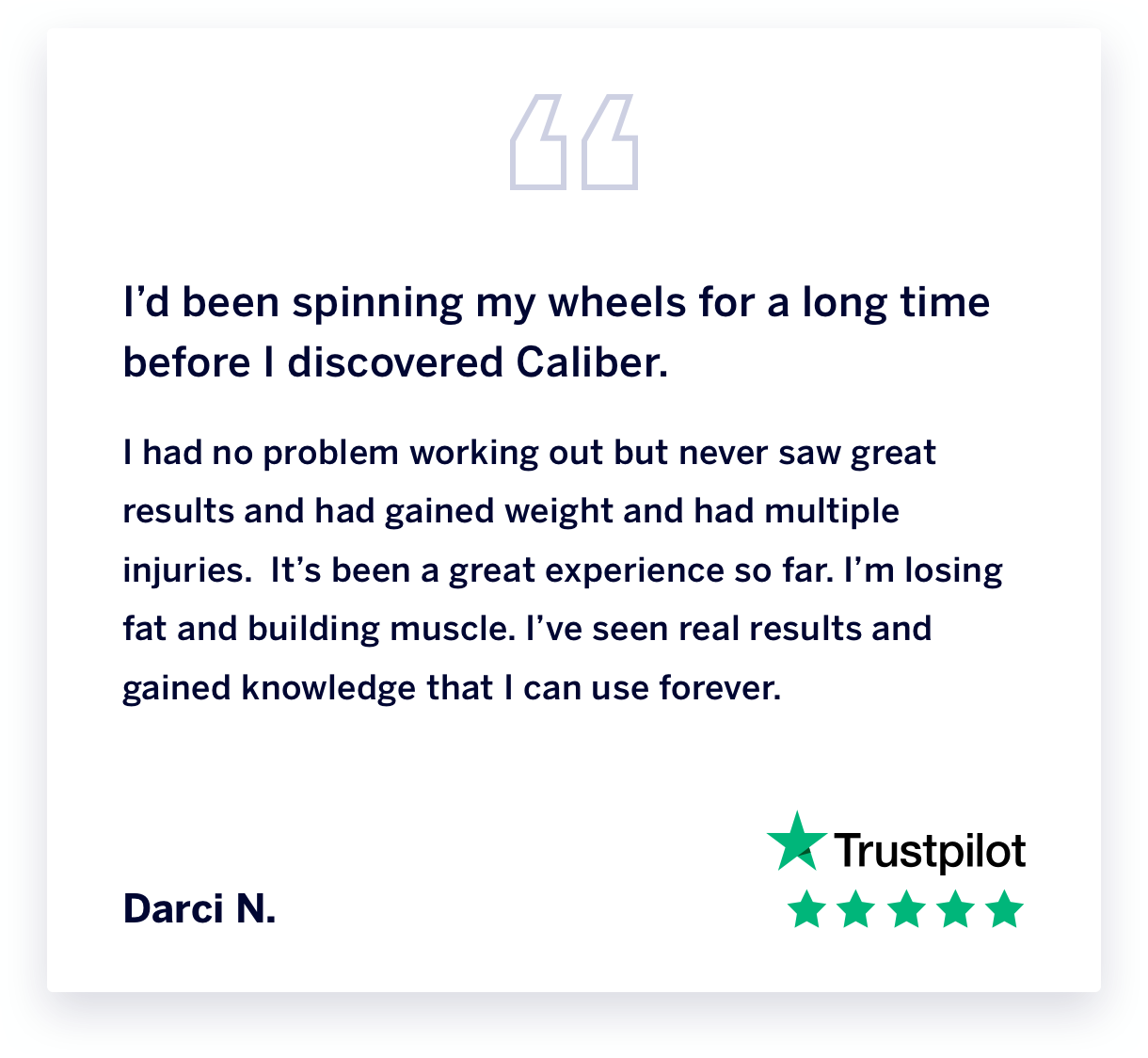 Do you prefer eating fewer, larger meals or more frequent, smaller meals?
Fewer, larger meals
More frequent, smaller meals
No preference
Are you happy eating the same foods frequently or do you like a lot of variety?
I am happy eating the same foods frequently
I like a lot of variety
Do you have any allergies or food restrictions that we should be aware of?
Have you tried any of the following diet approaches, now or in the past?
Keto
Paleo
Whole30
Food logging
Vegetarian / Vegan
Intermittent fasting
None of the above
Your coach will design a fully customized nutrition plan for you that's both effective and easy to stick to.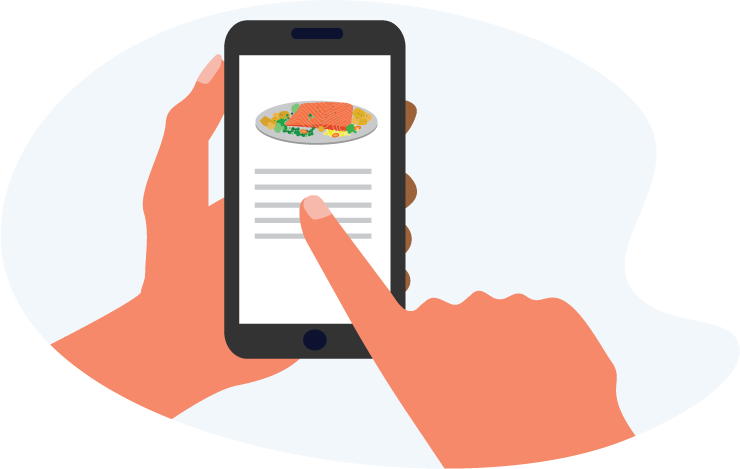 Your nutrition plan will allow you to get leaner and stronger without having to sacrifice the foods you love. Your coach will adjust your plan over time based on your progress, and will be there to offer guidance and support along the way.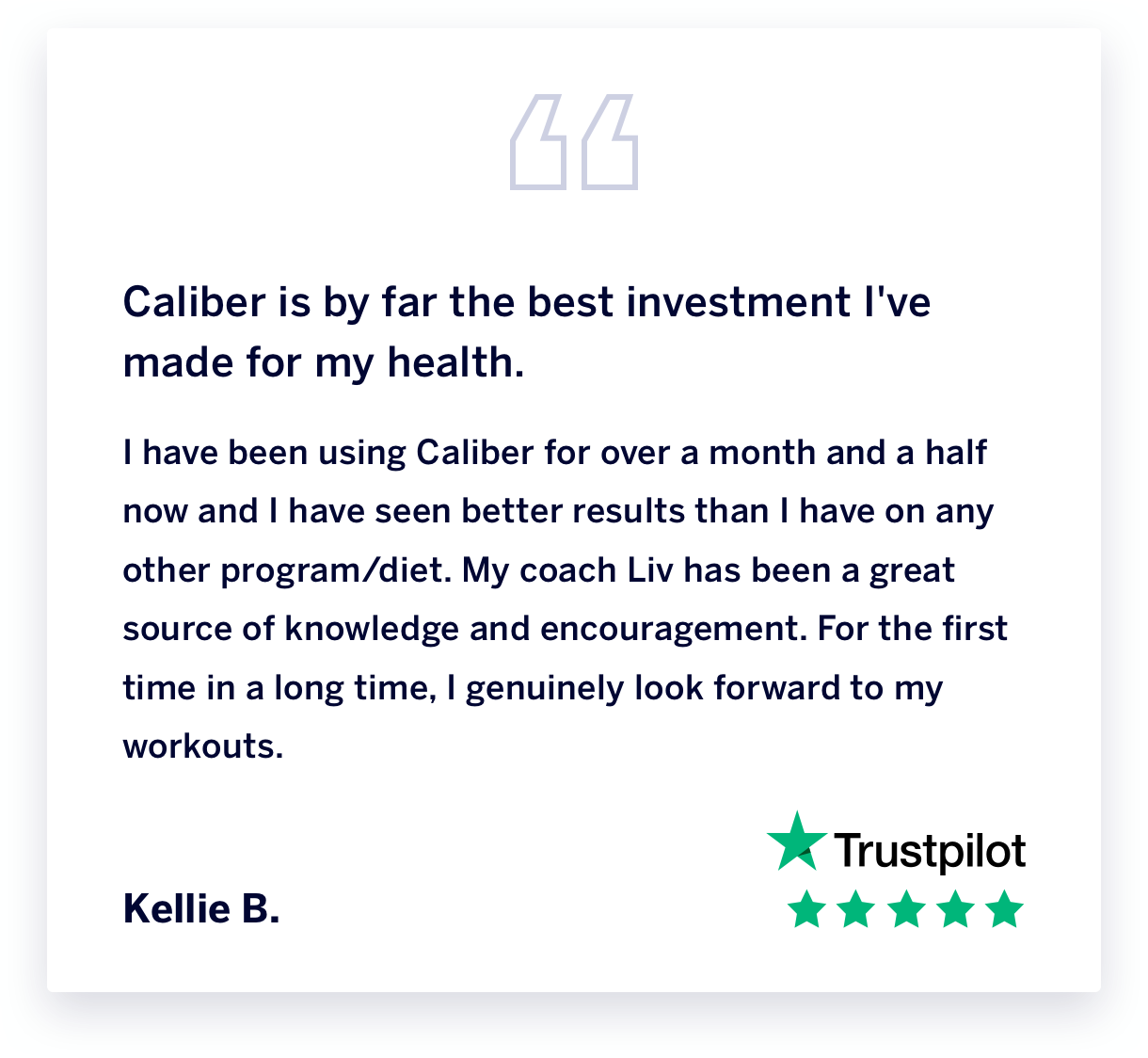 Do you relate to the statement below?
"It's been challenging for me to stay consistent with my fitness plan, and I tend to fall off the wagon."
Do you relate to the statement below?
"I'd love to commit to a fitness plan but I feel like I just don't have the time."
How frequently would you be able to work out?
2-3 days a week
4-5 days a week
6-7 days a week
How frequently do you travel, either for work or pleasure?
Rarely
1-2 times a year
3-4 times a year
Every month
Every week
How much time do you have for each workout?
Less than 30 minutes
30-60 minutes
60-90 minutes
Your coach will hold you accountable to your plan and help you stay consistent with your workouts.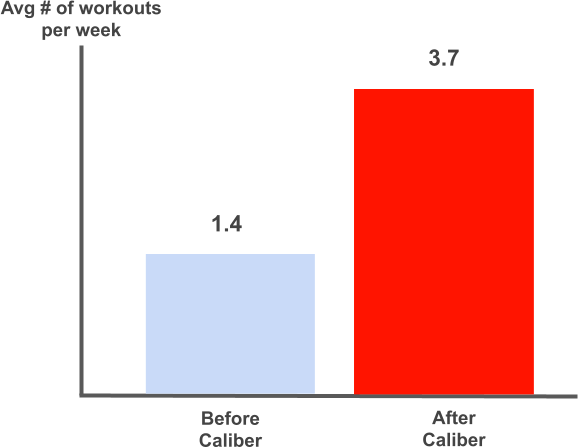 Unlike generic fitness apps, working with a real human coach has been proven to be the most effective way to build long-term, sustainable habits.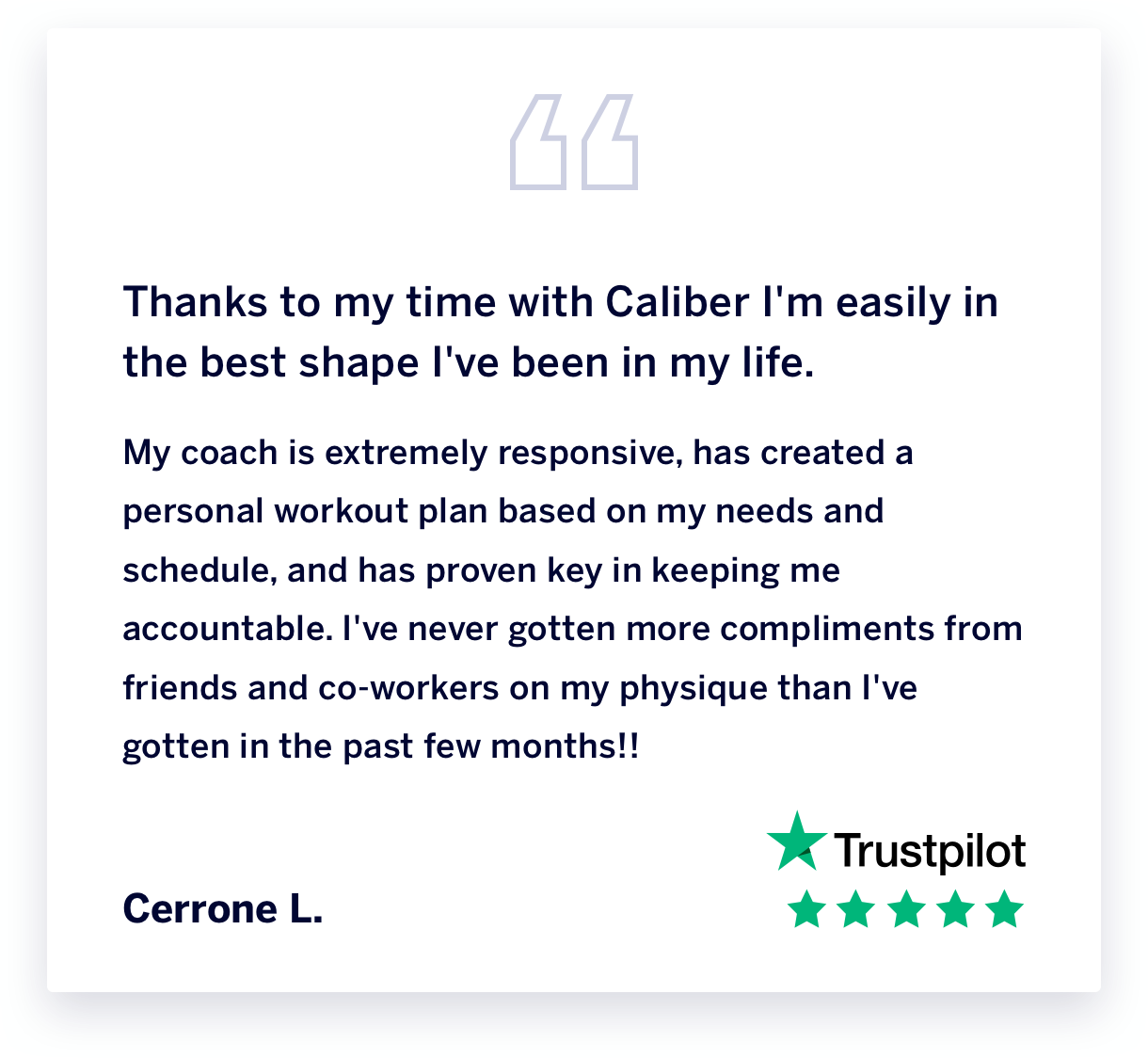 How would you classify your overall activity level?
Sedentary
Lightly active
Active
Very active
How important is it for you to improve your flexibility and mobility?
Not important
Somewhat important
Important
Very important
What's another goal you'd like to achieve with your coaching program?
Feel confident about my body
Improve my sleep
Reduce stress
Run a marathon
Complete a Tough Mudder or Spartan Race
Other
Do you have an HSA (Health Savings Account) or FSA (Flexible Spending Account)?
Great news! Caliber coaching is HSA/FSA eligible.
If you were to work with Caliber, what would success look like for you 3 months from now?
Please share as much detail as possible.
Like our training plans, Caliber coaching packages are fully customized based on your needs.

The coaching is structured as a 3 month program and the price starts at around $200 per month. We're so confident we can help you reach your goals that we literally guarantee your success - or give you 100% of your money back.
What is your email address?